Food and Surinam belong together, at every happening you will see that people are cooking extensively. The diversity of Surinamese cuisine is also reflected in the difference between the population groups. Each population group has its own specialties, although certain dishes have been taken over. Roti is the best-known dish from Suriname, but also Maksi Alesi, a Creole rice dish, and kidney beans with rice is popular. But the Chinese kitchen is also very popular, of course adapted to the Surinamese taste, with lots of chicken and pepper.
Here I did my best to make a selection of restaurants, from my own experience, where I know the locals visit. Of course there are many more good restaurants. Hopefully you will also be able to share the same good experience.
---
Top Roti restaurants in Paramaribo.

But first of all, you must know the best roti shops in Paramaribo, here the list: 
Rita's roti shop, Verlengde Mahonielaan

Rambali roti shop, Tweede Rijweg 151

Joosje roti shop, Zwartenhovenbrugstraat 9 and Joh. Mungrastraat 21

Chris roti, Maystraat 10 and Kwattaweg 170

Grand Roopram roti restaurants, 5 restaurants in Paramaribo
---
Jawa (Indonesian)
Kasabolaweg 7, Paramaribo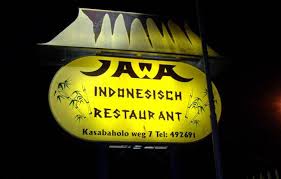 Jawa is known for its delicious rice tables and uses the original ingredients in her dishes. It is one of the best Indonesian restaurants in Suriname and has been around fort 30 years. You can sit inside or outside, on the covered terraces, enjoy your meal. All dishes taste very good and the tables are nicely covered with colorful tablecloths. You eat well for little money, definitely recommended!
---
The Coffee Box (Café, Grill)
Lalarookhweg 22A, Paramaribo

The Coffee Box has great coffee with lunch, but you can also have perfect diner with a good cocktail. We enjoyed the Pina colada cocktail! Everything tastes excellent and the meal is served originally. Try also the starters. It is less cheap for the local people than some other restaurants, but well known. Ambiance is good and it is real value for money.
---
Shadien (Surinamese)
Anton Dragtenweg 204, Paramaribo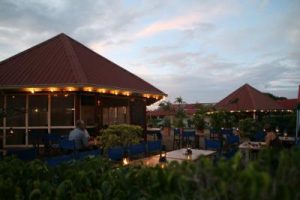 At Shadien you can eat delicious! They serve a super good roti doks (duck), but also many other Surinamese dishes. Shadien has a beautiful terrace on the Suriname river in Paramaribo. The restaurant is somewhat hidden on the Anton Dragtenweg. It is wonderfully quiet and you have a beautiful view over the Suriname River. It is a pity that you sometimes have to wait a long time for your food or for a new drink. Despite that, very worthwhile!
---
XO Lounge (International)
Verlengde Gemenelandsweg, Paramaribo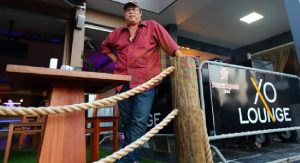 At XO Lounge is a nice restaurant, where you can eat and drink, both inside and on the terrace. The food is affordable and wines are very good! Definitely recommended to go with friends for fun. It is less comfort than some other restaurants, but you can not have everything for a decent price!
---
Sarinah (Javanese)
Verlengde Gemenelandsweg 187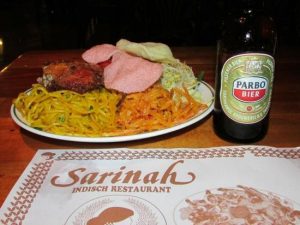 Sarinah is a great place which you cannot skip during a visit to the Surinamese capital city! At Sarinah you can enjoy Javanese delicacies throughout the day. Once inside you imagine yourself in a beautiful Indian restaurant with a large pond where you come across the bridge with bridges. Do not look too long at the menu and order the small, medium or large rice table. Then the feast of the small snacks that are put on the table is wonderful!
---
Felicia (Javanese)
Josephine Samson Greenstraat 91, Blauwgrond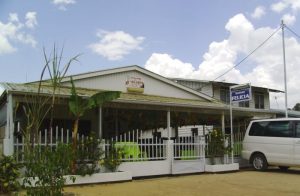 Felicia makes honest food for not too much money. In the culinary heart of Javanese Suriname, Blauwgrond, you will find many delicious warungs with delicious Javanese dishes such as noodles, nasi, satay, baka bana, telo, saoto and much more. In general, they all serve good and tasty Javanese food, but Felicia is and remains our favorite. Every Surinamer knows Blauwgrond and regularly goes to see what makes this very enjoyable. Do not expect exclusive hassle but a simple, relaxed atmosphere where you can eat well and cheaply.
---
De Gadri (Creools)
Zeelandiaweg 1, Paramaribo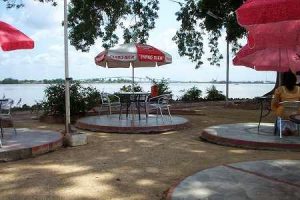 De Gadri is highly recommended for tasty and affordable Creole dishes. This restaurant is a topper for both lunch and dinner. In addition to a fixed menu with different kinds of nasi and bami, there are daily changing specialties. At Fort Zeelandia, with a beautiful view of the Suriname river.
---
Lucky restaurant (Chinese dim sum)
Kapplerstraat 1, Rainville Paramaribo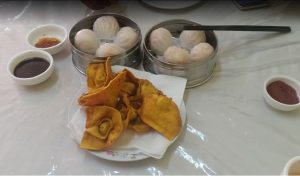 At Lucky restaurant the range is not very extensive, but what they have tastes excellent. Dim sum is also very good at Zhi Cheng Dimsum & Hotpot (extended Mahonylaan).
---
Spice Quest (Asian and European)
Nassylaan 107, Paramaribo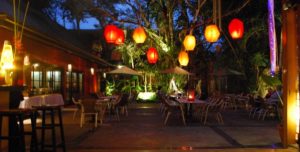 Spice Quest is one of the best restaurants in Paramaribo and regularly participates in national and international cooking competitions and is highly recommended. At Spice Quest restaurant you can go for fusion, Japanese and fish. The menu is a mix of international dishes with local seafood recipes and a must for lovers of Asian cuisine.
---