Spending the night in Suriname is possible from simple lodgings to very comfortable hotels. Because many hotels have been built not so long ago, the prices are good for the tourist and are sometimes negotiable. Based on our experiences, we have made a small selection of hotels and apartments for you. In particular, we looked at what makes a good stay for you, with airconditioning and safety as important criteria (for example night surveillance), for your good night's sleep. At the end, you need to decide for yourself, which luxury and facilities suit you and what you want to spend.
---
Eco Resort Inn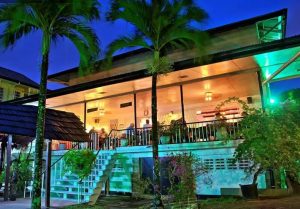 The Torarica group consists of three hotels with different unique characteristics. Eco Resort Inn is our favorite given the reasonable price, which includes the use of the facilities of Torarica hotel. Eco resort Inn is within walking distance of the nightlife of Paramaribo. The tranquility of the colonial mansion of the Eco Resort, ensures that your holiday feeling in Suriname starts in the hotel. Eco Resort stands for tranquility, tropical greenery and a homely atmosphere and the rooms offer views of the beautiful Surinam River or the tropical garden.
---
Coesewijne apartments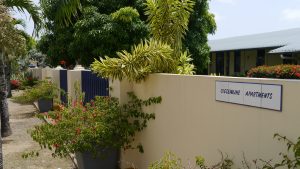 Coesewijne Apartments is small-scale and offers you cozy apartments with peace and quiet and yet close to the center of Paramaribo, with night surveillance. The apartment complex consists of four connected apartments located in a very popular location in Paramaribo South. In the apartments you will find character and comfort: from a complete kitchen with all necessary appliances to the living room, spacious bedrooms and luxury bathrooms.
---
Tran Elite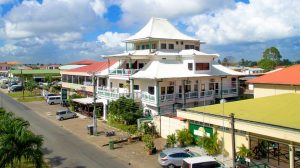 Tran Elite Hotel Apartments offers you a comfortable accommodation at a very good price-performance ratio. Located in a quiet area in Paramaribo North, the building is characterized by its exceptional Asian architectural style. Decent service and personal attention are highly valued at Tran Elite. Naturally equipped with comforts such as air conditioning, swimming pool, good breakfast and night surveillance.
---
Kekemba Resort Paramaribo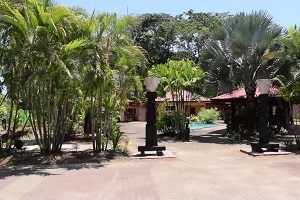 You are looking for an accomodation in Paramaribo that more than meets your minimum quality requirements, tropical surroundings and a swimming pool: then you are at the right place at Kekemba Resort Paramaribo. Kekemba Resort Paramaribo have a 3-star rating awarded by the OAS Caribbean Experiences. Your vacation in Suriname starts at Kekemba Resort Paramaribo which you use as a base for the discovery of Suriname.
---
The guesthouse and apartment complex is situated in the historical inner city of Paramaribo on an authentic small street. The site of 2200 m2 comprises a stately mansion in which the guesthouse is located, a separate flat apartment building, a gazebo, a swimming pool, a spacious private parking lot, a huge garden, all surrounded by a brick fence.  Besides being spacious and clean, our apartments are also luxuriously furnished, whereas our guesthouse offers spacious and comfortable guest rooms in a cosy and relaxed atmosphere. Enjoy a cool drink, while relaxing either in an easy chair or in one of our hammocks.
---
Hotel-restaurant de Plantage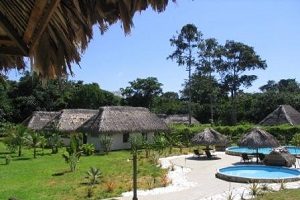 This is a place for nature lovers! De Plantage is a resort where simple luxury, tranquility and nature are the keywords. It has seven houses in a green area; all with a spacious balcony with hammock, an anteroom with couch, fridge and kettle (coffee and tea available). In addition, a sleeping area and a spacious shower / toilet. De Plantage is a resort 30 minutes' drive from the center of Paramaribo. Listening to the music of the birds, enjoy a rich breakfast, a drink by the pool or your balcony. To enjoy this to the full you can book several days at the Plantation.
---
Q-Inn Boutique hotel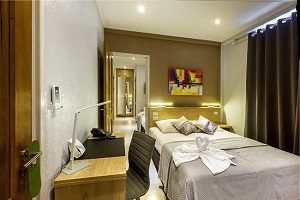 Q-Inn is a boutique hotel in the heart of Paramaribo. This luxurious hotel in the middle of downtown offers modern, lounge-style accommodation. The sixteen hotel rooms, in cheerful color schemes, offer all the modern conveniences. Our trendy hotel is the perfect home base for discovering all the sights of Paramaribo. The shopping district and the many welcoming cafés and restaurants are also within walking distance.
---
Kolibrie appartementen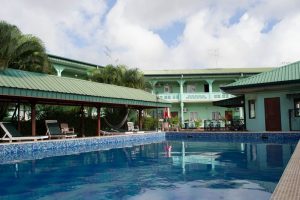 Kolibrie Appartementen is a cozy apartment complex just outside the center of Paramaribo where the price / quality ratio is good. They offer fully furnished apartments for 4 and 6 people. The apartments are all spacious and have luxury and a swimming pool. There is also a cozy eatery, which is open for breakfast, lunch and dinner. Furthermore, we offer complete security, think of an excellent 24-hour security service available, with a double occupancy at night.