The North Commewijne Tourism Cluster has successfully submitted a Project Proposal to the Inter-American Development Bank (IDB). The cycle path of Noord Commewijne is being rehabilitated by efforts of the government, private sector and the local community. The project includes the repair and hardening of the poor part of a 24-kilometer cycle path along the Commewijne River, from Rust and Werk to Bakkie Alliance.
The Noord-Commewijne plantation path has been around for a few hundred years, but has been largely impassable for more than twenty years. This area has a very high historical value and is rich in culture, fauna and flora.
This car-free path goes among other locations: Rust en Werk, Margaretha, Frederiksdorp, Marienbosch, Kroonenburg, Mon Souci, Hecht and Sterk, Constantia, Bruinendaal to Bakkie / Alliance. Repair of broken bridges on this route are also part of the project. 4 more bridges – 2 large and 2 small – still have to be built to make the cycle path a continuous whole. A large part where the cycle path must run has been washed away by the river water. Rust en Werk entrepreneurs have already built 2 bridges for their own account, which can serve as a model for the bridges to be built.
"The cycle path will give a huge boost to this area," says Bas Spek. "Tourists who normally pay a day visit to Commewijne will stay at least one day longer with the arrival of the cycle path. And there is a huge demand for safe bicycle paths along attractions that are interesting and with the realization of this project that demand will be met. The area really has everything to offer. From culture and nature to fine dining and staying overnight and from swimming in a luxury bath to spotting rare birds in the wild. "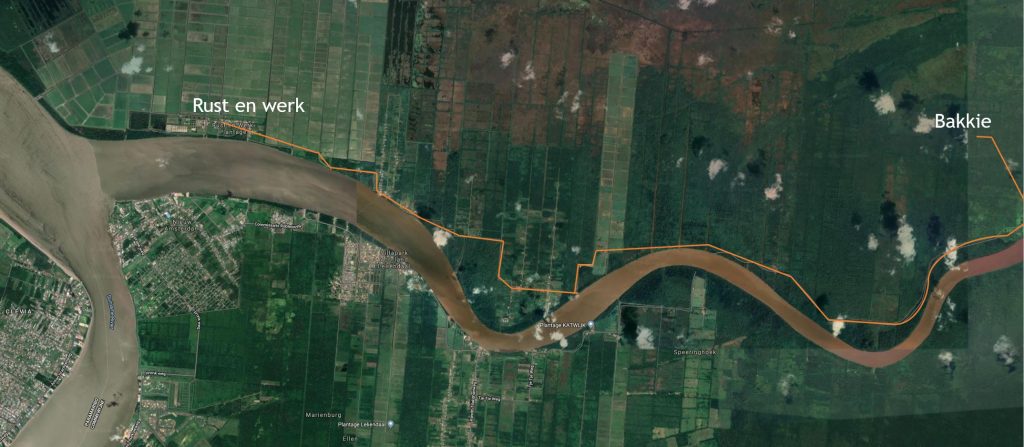 The bicycle path will ensure that tourists can undertake their trip completely independently (ie without the guidance of a guide). The crossing can be made at Leonsberg and once in Commewijne they can go everywhere on the bike themselves. Moving car-free in a nature and culture-rich area is one of the most popular trends among today's tourists. Taking into account the short distance from Paramaribo and the good accessibility of the right bank of the Commewijne river, the cycle path may well be that extra impulse for the rapid growth and development of tourism in this area.
There is full participation of entrepreneurs in the area. Grassalco has donated the necessary stone for the hardening of a 24-kilometer route, a plan that gives a boost to the cluster of 17 tourism companies in the area. The project costs an estimated US $ 350,000. The government comes in with US $ 150,000, Grassalco, Staatsolie and Van Alens Industrie, come in with material. Discussions with entrepreneurs in the area have also shown that they have already invested heavily from their own resources to support this project.